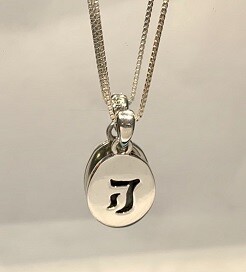 breath of G-d
SKU BJ 101
Product Details
The breath of G-d pendant is a sterling silver pendant that measures 3/4" X 1/2"
HEh ; "ה" (the fifth letter in the Hebrew alphabet), is one of the Divine letters.
Avram became Avraham (Abraham), Sarai became Sarah , with the addition of the letter "HEH". We see the letter as symbolizing the divine breath of G-d that is in all of us.
(as with all our pendants , a sterling silver chain is included)
Save this product for later