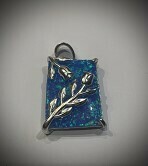 The Opal Olive Branch
SKU BJ122
Product Details
---
...the faithful are compared to olive trees...
Just as the leaves of an olive tree do not fall off the tree all year so too G.d's covering protection is constant .
Just as olives need to be crushed to acquire the pure olive oil, so the journey of the faithful is filled with tests and difficulties.
Yet the pure oil will always rise to the top.
sterling Silver and Opalite ( reconstituted Opal Stone)
1" X 1/2"
Save this product for later